A patented overhead weighing system
Vendee Concept patented its overhead grader system. The hook system allows the overhead product conveying and a better precision at weighing.
The patented hook overhead grader lets free space on the floor thanks to its ceiling-mounted overhead conveyors.
As a consequence this overhead system optimizes your work areas. The CALIBRA LA HOOK is best suited to fresh products, like poultry, whether cut or whole. The homologation of the CALIBRA LA HOOKS insures an 5g/0lB 0.18oz echelon, in conformity with the IPFA class Y(a) – (OIML R51) regulation.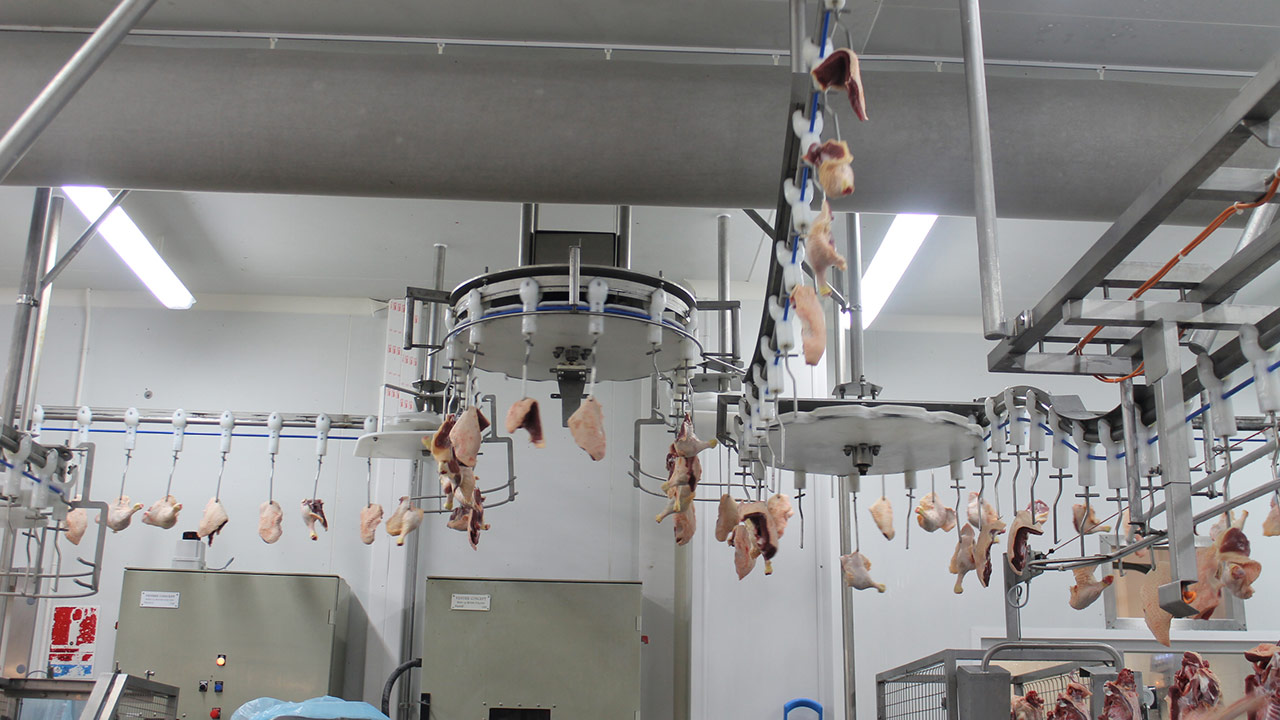 The photocells allow the detection of different varieties of products on the same line, and define their types.
The electronically controlled weighing bridge sorts the products by weight. Then each products are ejected regarding of their weight by pneumatic unloading units to guidance channels or buffer channels.
The guillotine trap equipped buffer channel controlled by stainless steel cylinder allows the provisory product storage when the being filled crate weigh is fulfilled. A luminous push-button allows the stored product liberation when the crate have been replaced. The supervision software offers a large panel of programs, insuring your production management.
The supervisor, efficiency and traceability
The association of the Supervisor Vendee Concept is the ideal complement to collect the data coming from our CALIBRA range.
This optional equipment, associates a traceability and storage management tool to the production management. The Supervisor is a real time production data recuperation tool. The totality of your production data is stored, collected and analyzed in order to optimize your global production. It collects and records all the weighing data linked to the labeling.
Characteristics
Capacity up to 12.5kg
Output up to 8000 products/hour
Overhead conveyor with hooks and trolleys
Hanging area
Automatic weighing bridge with stain gauge captor
Pneumatic unloading units
Bylaw version Class Y(a) IFPA – OIML R51
Control unit with 15'' touch screen
Management software offering a large panel of programs
Options
Orientation or buffer channels
Access pack Ubiquity
Software Recup DC
Supervisor
Control software CALIBRA TO PC
Labeler with stainless steel box
Download