An ergonomic overhead system
The overhead grader ergonomics has been studied to preserve your employees' health. In response to the sick leave and musculoskeletal desease recurrent problematic, Vendée Concept has developed the tray overhead grader, a practical and ergonomic process which reduces the risk of professional diseases.
The poultry parts previously cut on the cone line are placed by operators on the trays passing in front of their workstation. This new working way is ergonomic because the operators stay on a comfortable working area. To place the poultry parts, the movement is not going beyond the elbow height; it prevents tendinitis and unnecessary movement. The overhead system helps the workstation optimization.
An ejection respectful of your products
The poultry parts coming from the cone line or the «  »foies gras » » collected at the gutting station are placed one by one on the trays. The pneumatic unloading unit releases the tray by tilting: the product is transferred to a collecting channel on the basis of a grade preset by an electronic control system or to a buffer channel.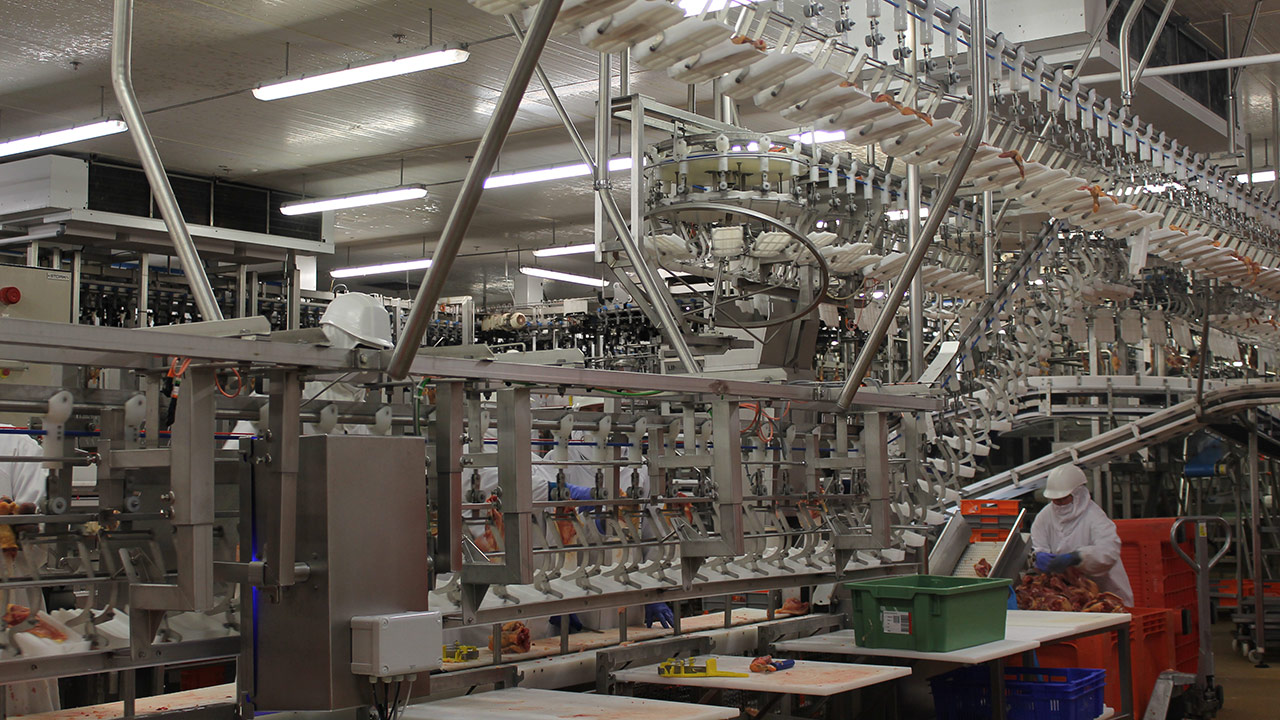 An adapted to foie gras weighing line
The CALIBRA LA TRAYS has been developed first as an answer to the foie gras weighing problematic. This delicate product needs a respectful conveying condition. In view of the requested exigencies for the foie gras treatment, the overhead grader proposes as an option a cooling line.
CHARACTERISTICS
Capacity up to 1.5 kg
Output up to 6000 products/hour
Overhead conveyors with PEHD trays
Ergonomic drop off area
Automatic weighing bridge with stain gauge captor
Pneumatic unloading units
Industrial touch screen 15''
Management software offering a large panel of programs
OPTIONS
Reception or buffer channels
Cooling line for foie gras (sprinkling, fogging or drainage)
On measures work tables at the ejection
Access pack Upiquity
Software Recup DC
Supervisor
Control software CALIBRATOPC
Labeler with stainless steel box
Download