The compact weighing system for the food industry
The CALIBRA T QUARTZ checkweigher is composed of a weighing platform allowing to calibrate in motion all types of products, both bare and packaged.
The Vendée Concept checkweigher offers optimal product processing with high weighing accuracy.
---
A 100% stainless steel design, efficient and hygienic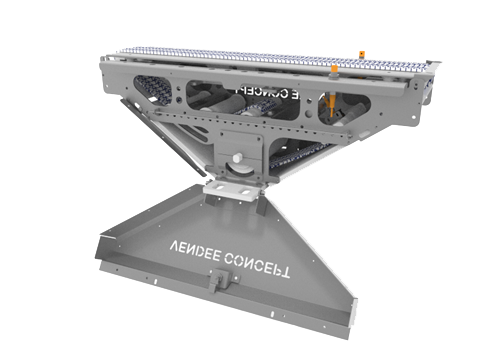 All our machines are made entirely of stainless steel.
The design of the CALIBRA T QUARTZ sorter has been studied to be efficient, robust and adapted to the wet food sector. Thus, there is no « micro-mechanics », which makes the machine solid and easy to maintain.
The easy opening of the weighing bridge ensures simple access to the belt winding system. In addition to the hygienic design, the quality of the components guarantees resistance to jet cleaning (watertightness: IP 65).
In contrast to conventional checkweighers divided into 3 separate parts (stabilization – weighing – discharge), CALIBRA T QUARTZ checkweighers are designed with a single articulated belt on the same chassis.
Our tests have proved that this checkweigher can withstand temperatures ranging from 0 to 30°C.
These advantages result in a significant reduction in maintenance costs and an excellent price/performance ratio.
Several recognized references in the food industry trust us.
---
Very good weighing accuracy
We have obtained an approval that certifies conformity for classes X and Y.
The precision performance is such that we far surpass the legal requirements (LNE).
You are thus assured of obtaining very good weighing accuracy for your products while benefiting from a high rate (up to 250 products/minute).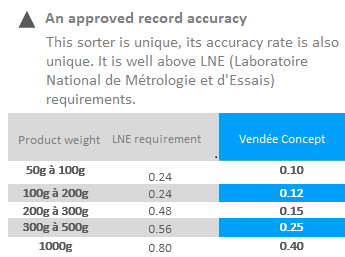 ---
A patented technological innovation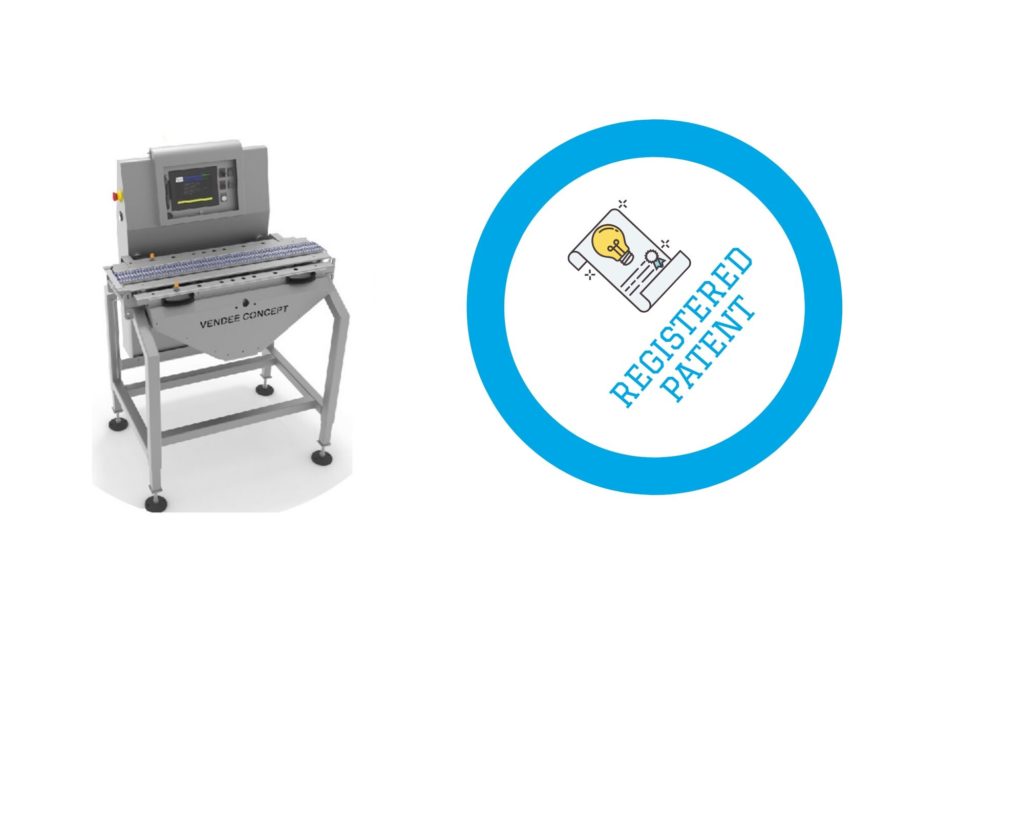 The articulated belt on this checkweigher is a Vendée Concept innovation.
Unique on the market to offer a modular belt, we filed a patent in 2019 (n°16 57100).
The advantages of this patented articulated modular belt :
Quick and hygienic cleaning
High resistance
Low maintenance costs
---
Our technology is adapted to your needs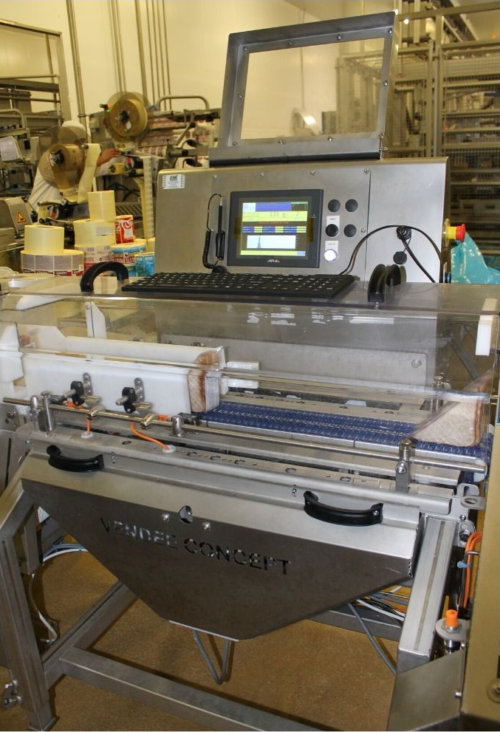 The program ensures a comparison of products within the target weight. In this way, products that do not conform to the expected weight are ejected.
We offer different ejection systems to preserve the quality of your products and packaging:
Soufflette
Flipper
Tilting conveyor
The 8 » touch screen makes it easy to read and allows easy programming. The management software offers you a panel of possible programming.
Production data can be retrieved and processed using the GESTPROD supervisor.
We also integrate metal detectors on our lines.
---
This checkweigher can be used in combination with the CALIBRA ROBOT to optimise production flows.
Discover how it works in robotic integration
---
CHARACTERISTICS
Output up to 250 products/minute
Belt width: 102mm
Weighing pan: 600mm
Frame with openable weighing bridge for a rapid cleaning
Management software offering a large panel of programs
Control panel with 8" touch screen
OPTIONS
Ejection conveyor by blower or flipper
Recuperation channel for ejected products
Access pack Ubiquity
Software Recup DC
Supervisor
Control software CALIBRA TO PC
Download